Description
The latest addition to our range of cylinder heads comes from a true US engine building mastermind. No one has spent more time dyno testing our cylinder heads and manifolds than Jon Kaase. Jon's experience testing our products over the years as part of the Engine Masters Competitions, have provided him with an in depth knowledge of what it takes to get the best results from our cylinder heads and manifolds. The knowledge gained from this testing has been combined with his wealth of experience as the number one engine builder in IHRA Pro Stock and has been applied to the new Kaase C-400. This brings to you the customer the very latest in Pro Stock technology to our C-400 cylinder head, making it the most advanced Cleveland Cylinder Head on the market today.
The C-400 comes fully CNC ported. At this level of performance CNC porting gives you the repeatable results needed to make the high horsepower level these heads are capable of achieving. The Kaase C-400 has a 2.850" minimum cross sectional area on the intake port. The port is designed to work with our 3V 3.5" 4500 manifold and is suited to 408+CI engines aiming for horsepower levels between the mid 700s to the low 800s. For horsepower levels beyond this, the C-400 is designed to work with our soon to be released 3V 4.2" 4500 manifold.
The C-400 flows 400cfm by just .750" valve lift with almost 340cfm at .500" lift.
To achieve these exceptional results, the Kaase C-400 comes with a 45cc combustion chamber. Both the inlet and exhaust ports have been raised. The exhaust port is just a further .100" higher than our 3V exhaust whilst the intake is .200" higher. The chamber is a very shallow and extremely efficient design with a total volume of just 45ccs. Valve angles remain standard Cleveland but the valve positions have been moved to optimize their location. These changes require a custom piston with at least a 1.200" compression height. The relocated valve positions also require longer intake and exhaust valves. Using our custom valves will net valve spring installed heights in the 2.100" range, dependant on the choice of collets and retainers.
Although this cylinder head is designed with shaft mounted rockers is mind, Standard Cleveland roller rockers will work with this cylinder head and stud girdles will need slight modification on the intake side for them to fit.
Valve sizes are 2.190" on the intake and 1.650" on the exhaust. Our standard valve guide size for the C-400 is .3125" (5/16), but the heads can be ordered with 7MM and or 11/32 valve guides if necessary.
So when you're looking for the ultimate SBF or Cleveland cylinder head look no further than Jon Kaase designed C-400 for proven results and outstanding performance.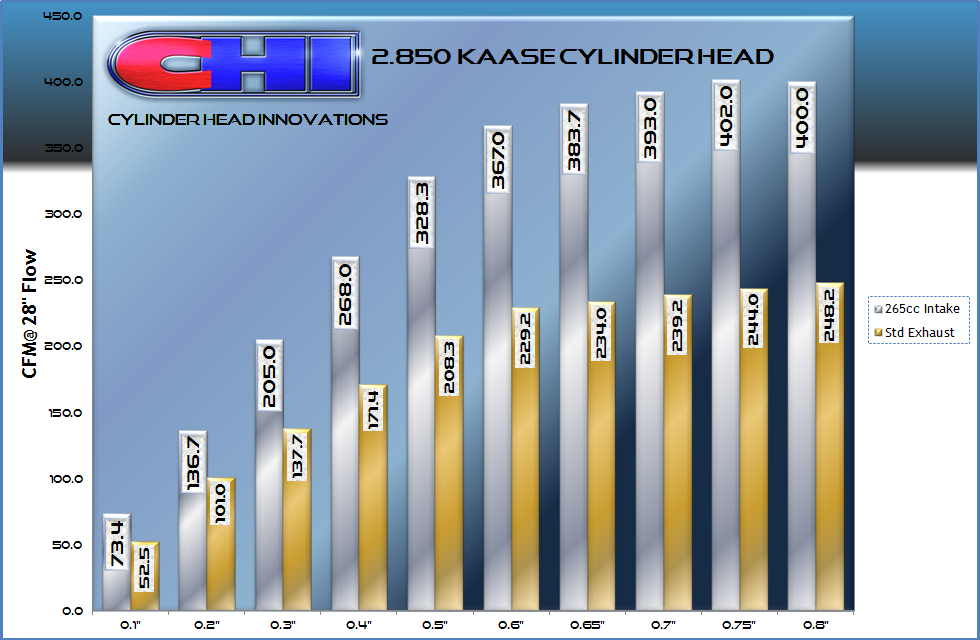 Head Model
Part No.
Assembled
Chamber
Valve Sizes
Intake/Exhaust
Exhaust Pattern
Intake Manifold
Application
C400 CNC Ported
SBFC400/2850B-45
Bare
45cc
2.190/1.650
4V
CHI 3V 208
SBFC400/2850B-60
Bare
60cc
2.190/1.650
4V
CHI 3V 208
SBFC400/2850C4-45
[tooltip tip="This complete Competition cylinder head package comes with CHI Custom made by REV (USA), swirl polished stainless steel valved with hard chromed stems. We use Chrome-Molly-7 Degree Retainers, Machined Valve Locks (not the cheaper stamped steel versions), and Isky 9005 Dual W/Damper Competition valve springs.

This package is ideal for mild street solid roller and larger solid cams of up to .650" lift(be sure to subtract valve lash from your camshaft specs when determining net valve lift), that are raced on a regular basis. Heads are finished off with matching hardened spring pad locators to positively locate the valve spring and Viton valve stem seals for unsurpassed oil control"]Competition[/tooltip]
45cc
2.190/1.650
4V
CHI 3V 208
Street/Strip Solid Street Roller
SBFC400/2850C4-60
[tooltip tip="This complete Competition cylinder head package comes with CHI Custom made by REV (USA), swirl polished stainless steel valved with hard chromed stems. We use Chrome-Molly-7 Degree Retainers, Machined Valve Locks (not the cheaper stamped steel versions), and Isky 9005 Dual W/Damper Competition valve springs.

This package is ideal for mild street solid roller and larger solid cams of up to .650" lift(be sure to subtract valve lash from your camshaft specs when determining net valve lift), that are raced on a regular basis. Heads are finished off with matching hardened spring pad locators to positively locate the valve spring and Viton valve stem seals for unsurpassed oil control"]Competition[/tooltip]
60cc
2.190/1.650
4V
CHI 3V 208
Street/Strip Solid Street Roller
SBFC400/2850C5-45
[tooltip tip="This complete competition cylinder head package comes with CHI custom made swirl polished stainless steel valves with hard chromed stems. We use PAC 10 degree titanium retainers, machined valve locks (not the cheaper stamped steel versions), and PAC-1225 competition valve springs. This package is ideal for race solid roller cams of up to .800" lift (be sure to subtract valve lash from your camshaft specs when determining net valve lift), that are raced on a regular basis. Heads are finished off with matching hardened spring pad locators to positively locate the valve spring and viton valve stem seals for unsurpassed oil control. "]Competition[/tooltip]
60cc
2.190/1.650
4V
CHI 3V 208
Competition Solid Roller
SBFC400/2850C5-60
[tooltip tip="This complete competition cylinder head package comes with CHI custom made swirl polished stainless steel valves with hard chromed stems. We use PAC 10 degree titanium retainers, machined valve locks (not the cheaper stamped steel versions), and PAC-1225 competition valve springs. This package is ideal for race solid roller cams of up to .800" lift (be sure to subtract valve lash from your camshaft specs when determining net valve lift), that are raced on a regular basis. Heads are finished off with matching hardened spring pad locators to positively locate the valve spring and viton valve stem seals for unsurpassed oil control. "]Competition[/tooltip]
60cc
2.190/1.650
4V
CHI 3V 208
Competition Solid Roller