Description
The all new 3V 225cc cylinder heads replace the older 218cc heads and are suited for use on competition and serious street engines of 400+ cubic inches in size and making up to and in excess of 650+hp. The new 225cc feature the same minimum cross section (2.4") as the 218cc intake ports are designed to deliver maximum power and torque, for those people not concerned by RPM limitations, but rather wanting to make the most possible torque and horsepower for their competition to wild street power plants.
With just a modest increase of 7ccs, and with no change to the minimum cross section, we have managed to extract 340cfm from our new 225cc port without hurting the all important low lift numbers. Again the emphasis was on keeping the port as small as possible whilst increasing airflow as much as possible. No other Small Block Ford – Cleveland cylinder head on the market today has the same airflow per CC of runner volume.
By utilizing the advantage of a taller than standard, 4V intake port height, and downsizing the port to a mere 225ccs, we have created an intake port capable of producing in excess of 700hp, whilst still having the ability to make exceptional torque along the way. Just take a look at Jon Kaase's winning entry in the 2004 Engine Masters competition. The engine had a peak of 700hp horsepower at 6500rpm and peak torque of 620ft/lb. All of this on straight pump gas and by a mere 6500 rpm.
Just like its predecessor (the 218cc) the 3V 225cc cylinder heads intake ports have .600" radiuses in all 4 corners, riding the port of any stagnant air and further promoting a more complete and uniform air flow pattern through the intake port, which ultimately lessens the chance of fuel dropping out of suspension from the air and promotes excellent Wet Flow Quality.
Coupled with our matching high velocity 3V 4150 Holley and 4500 Dominator intake manifolds, (as also used by Jon Kaase's winning 2004 Engine Masters Entry), the package is the ultimate choice for the wild street car and or competition enthusiasts wanting maximum torque and horsepower from their Small Block Fords. Our manifolds come ready with cast Fuel Injection – Nitrous bosses. With only minor machining our manifolds can be easily adapted to either nitrous or fuel injection, giving our customers the ease and flexibility to be able to upgrade as they wish.
At CHI we believe in offering our customers cylinder head and manifold combinations that are tailored to their horsepower requirements, and the 3V 225cc cylinder head and manifold combinations are not only the choice of World Champion Engine Builders like Jon Kaase, but are also quickly becoming the popular choice of the serious street – competition engine builder and car enthusiasts, world wide.
Proving the performance potential of our cylinder heads, rather than just providing you with estimations based on flow figures alone is also important to us. To this end we participate and sponsor competitions like the Engine Masters, as well as extensively dyno test our products.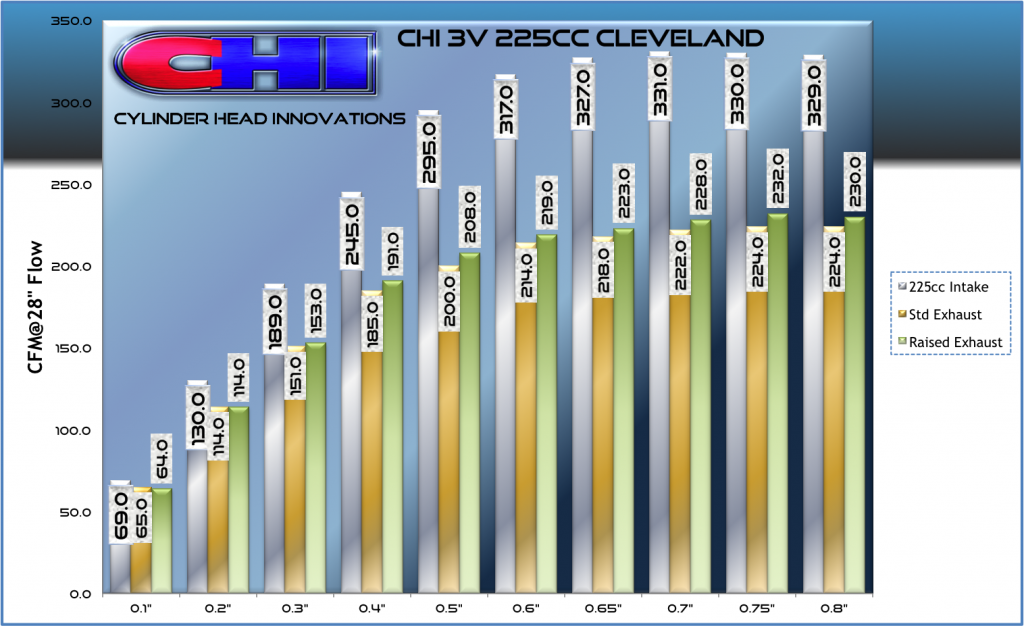 Head Model
Part No.
Assembled
Chamber
Valve Sizes
Intake/Exhaust
Exhaust Pattern
Intake Manifold
Application
3V 225cc
SBF3V225B-60
Bare
60cc
2.190/1.650
2V or 4V
CHI 3V 225
SBF3V225B-67
Bare
67cc
2.190/1.650
2V or 4V
CHI 3V 225
SBF3V225C2-60
[tooltip tip="This complete Street cylinder head package comes with CHI Custom made by REV (USA), stainless steel valved with hard chromed stems. We use Chrome-Molly-7 Degree Retainers, Chrome Moly Machined Valve Locks (not the cheaper stamped steel versions), and Isky 6105 Dual W/Damper valve springs. Seat pressures are typically 135lbs, with a 330lbs/in spring rate.

This package is ideal for hydraulic roller camshafts to 230@.050 with .600" lift, or small solids up to 230@.050 and .570" lift that are street driven regularly. Heads are finished off with matching hardened spring pad locators to positively locate the valve spring and Viton valve stem seals for unsurpassed oil contro.l"]Street/Strip[/tooltip]
60cc
2.190/1.650
2V or 4V
CHI 3V 225
Street/Strip Roller Hydraulic
SBF3V225C2-67
[tooltip tip="This complete Street cylinder head package comes with CHI Custom made by REV (USA), stainless steel valved with hard chromed stems. We use Chrome-Molly-7 Degree Retainers, Chrome Moly Machined Valve Locks (not the cheaper stamped steel versions), and Isky 6105 Dual W/Damper valve springs. Seat pressures are typically 135lbs, with a 330lbs/in spring rate.

This package is ideal for hydraulic roller camshafts to 230@.050 with .600" lift, or small solids up to 230@.050 and .570" lift that are street driven regularly. Heads are finished off with matching hardened spring pad locators to positively locate the valve spring and Viton valve stem seals for unsurpassed oil contro.l"]Street/Strip[/tooltip]
67cc
2.190/1.650
2V or 4V
CHI 3V 225
Street/Strip Roller Hydraulic
SBF3V225C3-60
[tooltip tip="This complete Competition cylinder head package comes with CHI Custom made by REV (USA), swirl polished stainless steel valved with hard chromed stems. We use Chrome-Molly-7 Degree Retainers, Machined Valve Locks (not the cheaper stamped steel versions), and Isky 8005A Dual W/Damper Competition valve springs.

This package is ideal for large solid cams of up to .625" lift (be sure to subtract valve lash from your camshaft specs when determining net valve lift), that are raced on a regular basis. Heads are finished off with matching hardened spring pad locators to positively locate the valve spring and Viton valve stem seals for unsurpassed oil control"]Competition[/tooltip]
60cc
2.190/1.650
2V or 4V
CHI 3V 225
Street/Strip Solid Flat Tappet
SBF3V225C3-67
[tooltip tip="This complete Competition cylinder head package comes with CHI Custom made by REV (USA), swirl polished stainless steel valved with hard chromed stems. We use Chrome-Molly-7 Degree Retainers, Machined Valve Locks (not the cheaper stamped steel versions), and Isky 8005A Dual W/Damper Competition valve springs.

This package is ideal for large solid cams of up to .625" lift (be sure to subtract valve lash from your camshaft specs when determining net valve lift), that are raced on a regular basis. Heads are finished off with matching hardened spring pad locators to positively locate the valve spring and Viton valve stem seals for unsurpassed oil control"]Competition[/tooltip]
67cc
2.190/1.650
2V or 4V
CHI 3V 225
Street/Strip Solid Flat Tappet
SBF3V225C4-60
[tooltip tip="This complete Competition cylinder head package comes with CHI Custom made by REV (USA), swirl polished stainless steel valved with hard chromed stems. We use Chrome-Molly-7 Degree Retainers, Machined Valve Locks (not the cheaper stamped steel versions), and Isky 9005 Dual W/Damper Competition valve springs.

This package is ideal for mild street solid roller and larger solid cams of up to .650" lift(be sure to subtract valve lash from your camshaft specs when determining net valve lift), that are raced on a regular basis. Heads are finished off with matching hardened spring pad locators to positively locate the valve spring and Viton valve stem seals for unsurpassed oil control"]Competition[/tooltip]
60cc
2.190/1.650
2V or 4V
CHI 3V 225
Street/Strip Solid Street Roller
SBF3V225C4-67
[tooltip tip="This complete Competition cylinder head package comes with CHI Custom made by REV (USA), swirl polished stainless steel valved with hard chromed stems. We use Chrome-Molly-7 Degree Retainers, Machined Valve Locks (not the cheaper stamped steel versions), and Isky 9005 Dual W/Damper Competition valve springs.

This package is ideal for mild street solid roller and larger solid cams of up to .650" lift(be sure to subtract valve lash from your camshaft specs when determining net valve lift), that are raced on a regular basis. Heads are finished off with matching hardened spring pad locators to positively locate the valve spring and Viton valve stem seals for unsurpassed oil control"]Competition[/tooltip]
67cc
2.190/1.650
2V or 4V
CHI 3V 225
Street/Strip Solid Street Roller
SBF3V225C5-60
[tooltip tip="This complete competition cylinder head package comes with CHI custom made swirl polished stainless steel valves with hard chromed stems. We use PAC 10 degree titanium retainers, machined valve locks (not the cheaper stamped steel versions), and PAC-1225 competition valve springs. This package is ideal for race solid roller cams of up to .800" lift (be sure to subtract valve lash from your camshaft specs when determining net valve lift), that are raced on a regular basis. Heads are finished off with matching hardened spring pad locators to positively locate the valve spring and viton valve stem seals for unsurpassed oil control. "]Competition[/tooltip]
60cc
2.190/1.650
2V or 4V
CHI 3V 225
Competition Solid Roller
SBF3V225-C5-67
[tooltip tip="This complete competition cylinder head package comes with CHI custom made swirl polished stainless steel valves with hard chromed stems. We use PAC 10 degree titanium retainers, machined valve locks (not the cheaper stamped steel versions), and PAC-1225 competition valve springs. This package is ideal for race solid roller cams of up to .800" lift (be sure to subtract valve lash from your camshaft specs when determining net valve lift), that are raced on a regular basis. Heads are finished off with matching hardened spring pad locators to positively locate the valve spring and viton valve stem seals for unsurpassed oil control. "]Competition[/tooltip]
67cc
2.190/1.650
2V or 4V
CHI 3V 225
Competition Solid Roller