Description
The Innovative 3V 185 is in a class of its own amongst Cleveland Cylinder Heads. Our 3V185cc Cleveland cylinder heads have an intake port that is only marginally bigger than a factory 2V Cleveland Exhaust port!. This makes it the smallest Cleveland cylinder head on the market today. This unique Cleveland cylinder head is best suited to customers with standard stroke engines wanting up to 500hp with solid flat tappet cams, and or customers with stroker engines looking to make low to mid 500's with flat tappet cams and or mid 500+ with hydraulic and solid rollers.
The 185cc intake ports are designed to deliver maximum power and torque for the serious street car enthusiast, whilst keeping their RPM levels down to a respectable level. By utilizing the advantage of a taller than standard 4V intake port height, and downsizing the port to a mere 185ccs, we have an intake port capable of making in excess of 550hp, with exceptional torque and power along the way, as proven in Dave Storlien's 2002 Engine Masters Clevor, which produced the outstanding figures of 605hp and a whopping 530 ft/lb of torque, and all this from a 366ci power plant utilizing a flat tappet cam, running on pump fuel, with a 6500 rpm limit.
The 3V 185cc Cleveland cylinder heads uniquely shaped intake ports, have the smallest runner volume of any 300cfm Cleveland cylinder head available today, giving street car enthusiasts unmatched torque and horsepower levels right where they need it most. Coupled with our matching high velocity 185cc 4150 Holley intake manifolds, these heads are the ultimate choice for the serious street car enthusiast wanting the best spread of torque and horsepower from engines making up to and around 500hp from their Small Block Fords.
Why use the 3V 185 head? Even though 2V factory heads have a minimum cross section of approximately 2.0" at the pushrod area of the port (which is close to the 185ccs 1.9" minimum cross section area), the 2V heads have a much larger opening at the intake manifold face of the cylinder head (2.4"" minimum cross section).
What this means is that when manifold are made to match a 2V head they start out at 2.4" to match the intake face of the cylinder head, and taper up from there, creating a runner that is way too big for the majority of street engines. With the 3V 185cc head this is not the case, as we made the manifold suit our port size, and thus kept the velocity up high where it is most effective, by keeping the runner small. Because of this the 3V 185cc head and manifold combination has far superior torque and throttle response than any other available Cleveland cylinder head and manifold package at around the 500hp mark.
Our manifolds also come ready with Fuel Injection – Nitrous bosses cast into the end of the runners, near the manifold face. With only minor machining they can be easily adapted to either, giving our customers the ease and flexibility to be able to upgrade as they wish.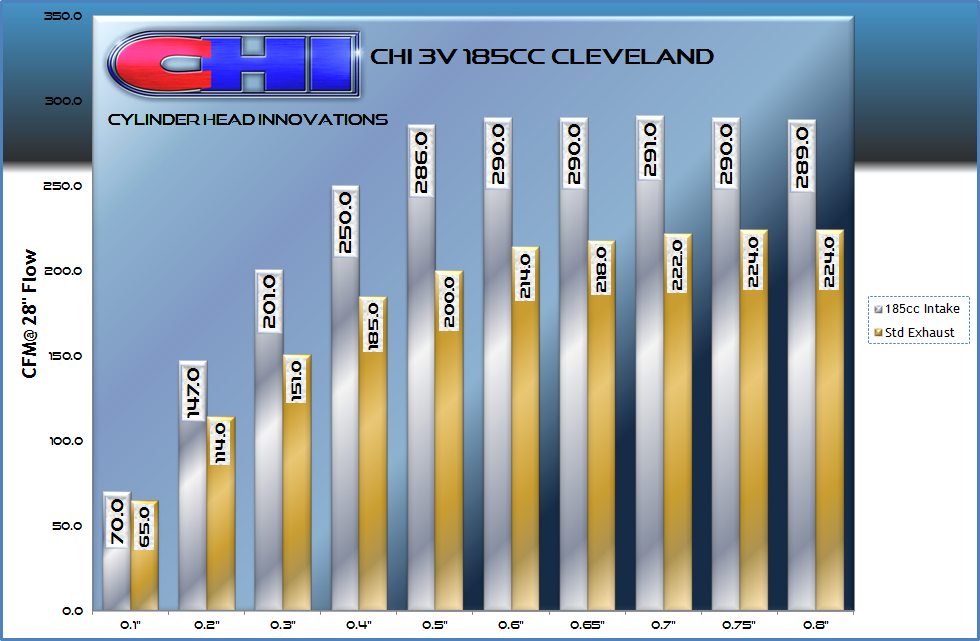 Head Model
Part No.
Assembled
Chamber
Valve Sizes
Intake/Exhaust
Exhaust Pattern
Intake Manifold
Application
3V 185cc
SBF3V185B-60
Bare
60cc
2.070/1.650
2V or 4V
CHI 3V 185
SBF3V185B-67
Bare
67cc
2.070/1.650
2V or 4V
CHI 3V 185
SBF3V185C1-60
[tooltip tip="This complete Street cylinder head package comes with CHI Custom made by REV (USA), stainless steel valves with hard chromed stems. We use Chrome-Molly-7 Degree Retainers, Chrome Moly Machined Valve Locks (not the cheaper stamped steel versions), and Isky 805-DO valve springs. Seat pressures are typically 130lbs, with a 330lbs/in spring rate.

This package is ideal for hydraulic camshafts to 230@.050 with .570" lift, or small solids up to 230@.050 and .570" lift that are street driven regularly, Heads are finished off with matching hardened spring pad locators to positively locate the valve spring and Viton valve stem seals for unsurpassed oil control."]Street[/tooltip]
60cc
2.070/1.650
2V or 4V
CHI 3V 185
Street Hydraulic Flat Tappet
SBF3V185C1-67
[tooltip tip="This complete Street cylinder head package comes with CHI Custom made by REV (USA), stainless steel valves with hard chromed stems. We use Chrome-Molly-7 Degree Retainers, Chrome Moly Machined Valve Locks (not the cheaper stamped steel versions), and Isky 805-DO valve springs. Seat pressures are typically 130lbs, with a 330lbs/in spring rate.

This package is ideal for hydraulic camshafts to 230@.050 with .570" lift, or small solids up to 230@.050 and .570" lift that are street driven regularly, Heads are finished off with matching hardened spring pad locators to positively locate the valve spring and Viton valve stem seals for unsurpassed oil control."]Street[/tooltip]
67cc
2.070/1.650
2V or 4V
CHI 3V 185
Street Hydraulic Flat Tappet
SBF3V185C2-60
[tooltip tip="This complete Street cylinder head package comes with CHI Custom made by REV (USA), stainless steel valved with hard chromed stems. We use Chrome-Molly-7 Degree Retainers, Chrome Moly Machined Valve Locks (not the cheaper stamped steel versions), and Isky 6105 Dual W/Damper valve springs. Seat pressures are typically 135lbs, with a 330lbs/in spring rate.

This package is ideal for hydraulic roller camshafts to 230@.050 with .600" lift, or small solids up to 230@.050 and .570" lift that are street driven regularly. Heads are finished off with matching hardened spring pad locators to positively locate the valve spring and Viton valve stem seals for unsurpassed oil contro.l"]Street/Strip[/tooltip]
60cc
2.070/1.650
2V or 4V
CHI 3V 185
Street/Strip Roller Hydraulic
SBF3V185C2-67
[tooltip tip="This complete Street cylinder head package comes with CHI Custom made by REV (USA), stainless steel valved with hard chromed stems. We use Chrome-Molly-7 Degree Retainers, Chrome Moly Machined Valve Locks (not the cheaper stamped steel versions), and Isky 6105 Dual W/Damper valve springs. Seat pressures are typically 135lbs, with a 330lbs/in spring rate.

This package is ideal for hydraulic roller camshafts to 230@.050 with .600" lift, or small solids up to 230@.050 and .570" lift that are street driven regularly. Heads are finished off with matching hardened spring pad locators to positively locate the valve spring and Viton valve stem seals for unsurpassed oil contro.l"]Street/Strip[/tooltip]
67cc
2.070/1.650
2V or 4V
CHI 3V 185
Street/Strip Roller Hydraulic
SBF3V185C3-60
[tooltip tip="This complete Competition cylinder head package comes with CHI Custom made by REV (USA), swirl polished stainless steel valved with hard chromed stems. We use Chrome-Molly-7 Degree Retainers, Machined Valve Locks (not the cheaper stamped steel versions), and Isky 8005A Dual W/Damper Competition valve springs.

This package is ideal for large solid cams of up to .625" lift (be sure to subtract valve lash from your camshaft specs when determining net valve lift), that are raced on a regular basis. Heads are finished off with matching hardened spring pad locators to positively locate the valve spring and Viton valve stem seals for unsurpassed oil control"]Competition[/tooltip]
60cc
2.070/1.650
2V or 4V
CHI 3V 185
Street/Strip Solid Flat Tappet
SBF3V185C3-67
[tooltip tip="This complete Competition cylinder head package comes with CHI Custom made by REV (USA), swirl polished stainless steel valved with hard chromed stems. We use Chrome-Molly-7 Degree Retainers, Machined Valve Locks (not the cheaper stamped steel versions), and Isky 8005A Dual W/Damper Competition valve springs.

This package is ideal for large solid cams of up to .625" lift (be sure to subtract valve lash from your camshaft specs when determining net valve lift), that are raced on a regular basis. Heads are finished off with matching hardened spring pad locators to positively locate the valve spring and Viton valve stem seals for unsurpassed oil control"]Competition[/tooltip]
67cc
2.070/1.650
2V or 4V
CHI 3V 185
Street/Strip Solid Flat Tappet
3V 185cc Boss
SBFB3V185B-60
Bare
60cc
2.070/1.650
2V or 4V
INT3V185H8.2W
to run with
SBFB3V185B-67
Bare
67cc
2.070/1.650
2V or 4V
INT3V185H8.2W
8.2" Block
SBFB3V185C1-60
[tooltip tip="This complete Street cylinder head package comes with CHI Custom made by REV (USA), stainless steel valves with hard chromed stems. We use Chrome-Molly-7 Degree Retainers, Chrome Moly Machined Valve Locks (not the cheaper stamped steel versions), and Isky 805-DO valve springs. Seat pressures are typically 130lbs, with a 330lbs/in spring rate.

This package is ideal for hydraulic camshafts to 230@.050 with .570" lift, or small solids up to 230@.050 and .570" lift that are street driven regularly, Heads are finished off with matching hardened spring pad locators to positively locate the valve spring and Viton valve stem seals for unsurpassed oil control."]Street[/tooltip]
60cc
2.070/1.650
2V or 4V
INT3V185H8.2W
Street Hydraulic Flat Tappet
SBFB3V185C1-67
[tooltip tip="This complete Street cylinder head package comes with CHI Custom made by REV (USA), stainless steel valves with hard chromed stems. We use Chrome-Molly-7 Degree Retainers, Chrome Moly Machined Valve Locks (not the cheaper stamped steel versions), and Isky 805-DO valve springs. Seat pressures are typically 130lbs, with a 330lbs/in spring rate.

This package is ideal for hydraulic camshafts to 230@.050 with .570" lift, or small solids up to 230@.050 and .570" lift that are street driven regularly, Heads are finished off with matching hardened spring pad locators to positively locate the valve spring and Viton valve stem seals for unsurpassed oil control."]Street[/tooltip]
67cc
2.070/1.650
2V or 4V
INT3V185H8.2W
Street Hydraulic Flat Tappet
SBFB3V185C2-60
[tooltip tip="This complete Street cylinder head package comes with CHI Custom made by REV (USA), stainless steel valved with hard chromed stems. We use Chrome-Molly-7 Degree Retainers, Chrome Moly Machined Valve Locks (not the cheaper stamped steel versions), and Isky 6105 Dual W/Damper valve springs. Seat pressures are typically 135lbs, with a 330lbs/in spring rate.

This package is ideal for hydraulic roller camshafts to 230@.050 with .600" lift, or small solids up to 230@.050 and .570" lift that are street driven regularly. Heads are finished off with matching hardened spring pad locators to positively locate the valve spring and Viton valve stem seals for unsurpassed oil contro.l"]Street/Strip[/tooltip]
60cc
2.070/1.650
2V or 4V
INT3V185H8.2W
Street/Strip Roller Hydraulic
SBFB3V185C2-67
[tooltip tip="This complete Street cylinder head package comes with CHI Custom made by REV (USA), stainless steel valved with hard chromed stems. We use Chrome-Molly-7 Degree Retainers, Chrome Moly Machined Valve Locks (not the cheaper stamped steel versions), and Isky 6105 Dual W/Damper valve springs. Seat pressures are typically 135lbs, with a 330lbs/in spring rate.

This package is ideal for hydraulic roller camshafts to 230@.050 with .600" lift, or small solids up to 230@.050 and .570" lift that are street driven regularly. Heads are finished off with matching hardened spring pad locators to positively locate the valve spring and Viton valve stem seals for unsurpassed oil contro.l"]Street/Strip[/tooltip]
67cc
2.070/1.650
2V or 4V
INT3V185H8.2W
Street/Strip Roller Hydraulic
SBFB3V185C3-60
[tooltip tip="This complete Competition cylinder head package comes with CHI Custom made by REV (USA), swirl polished stainless steel valved with hard chromed stems. We use Chrome-Molly-7 Degree Retainers, Machined Valve Locks (not the cheaper stamped steel versions), and Isky 8005A Dual W/Damper Competition valve springs.

This package is ideal for large solid cams of up to .625" lift (be sure to subtract valve lash from your camshaft specs when determining net valve lift), that are raced on a regular basis. Heads are finished off with matching hardened spring pad locators to positively locate the valve spring and Viton valve stem seals for unsurpassed oil control"]Competition[/tooltip]
60cc
2.070/1.650
2V or 4V
INT3V185H8.2W
Street/Strip Solid Flat Tappet
SBFB3V185C3-67
[tooltip tip="This complete Competition cylinder head package comes with CHI Custom made by REV (USA), swirl polished stainless steel valved with hard chromed stems. We use Chrome-Molly-7 Degree Retainers, Machined Valve Locks (not the cheaper stamped steel versions), and Isky 8005A Dual W/Damper Competition valve springs.

This package is ideal for large solid cams of up to .625" lift (be sure to subtract valve lash from your camshaft specs when determining net valve lift), that are raced on a regular basis. Heads are finished off with matching hardened spring pad locators to positively locate the valve spring and Viton valve stem seals for unsurpassed oil control"]Competition[/tooltip]
67cc
2.070/1.650
2V or 4V
INT3V185H8.2W
Street/Strip Solid Flat Tappet
SBFB3V185C4-60
[tooltip tip="This complete Competition cylinder head package comes with CHI Custom made by REV (USA), swirl polished stainless steel valved with hard chromed stems. We use Chrome-Molly-7 Degree Retainers, Machined Valve Locks (not the cheaper stamped steel versions), and Isky 9005 Dual W/Damper Competition valve springs.

This package is ideal for mild street solid roller and larger solid cams of up to .650" lift(be sure to subtract valve lash from your camshaft specs when determining net valve lift), that are raced on a regular basis. Heads are finished off with matching hardened spring pad locators to positively locate the valve spring and Viton valve stem seals for unsurpassed oil control"]Competition[/tooltip]
60cc
2.070/1.650
2V or 4V
INT3V185H8.2W
Street/Strip Solid Street Roller
SBFB3V185C4-67
[tooltip tip="This complete Competition cylinder head package comes with CHI Custom made by REV (USA), swirl polished stainless steel valved with hard chromed stems. We use Chrome-Molly-7 Degree Retainers, Machined Valve Locks (not the cheaper stamped steel versions), and Isky 9005 Dual W/Damper Competition valve springs.

This package is ideal for mild street solid roller and larger solid cams of up to .650" lift(be sure to subtract valve lash from your camshaft specs when determining net valve lift), that are raced on a regular basis. Heads are finished off with matching hardened spring pad locators to positively locate the valve spring and Viton valve stem seals for unsurpassed oil control"]Competition[/tooltip]
67cc
2.070/1.650
2V or 4V
INT3V185H8.2W
Street/Strip Solid Street Roller