CHI small block Chevy 13 degree heads are the ultimate in wedge style Chevy performance.  These CNC ported heads are designed for serious circle track or drag racers who want maximum performance. The CHI 13 degree head features extra tall intake ports, revised spark plug location, and a highly efficient combustion chamber  significantly increasing horsepower potential. Suitable for applications well over 800HP.
As standard these heads come with CNC machined combustion chambers and ports, extra thick decks, machined for O'ring intake gaskets and reverse flow water passages.
Options include peripheral CNC machining (lightening), machining for down nozzles, Beryllium copper seats.
You have the option of bare heads or complete assemblies ready to bolt on. All CHI heads are fitted with hardened or bronze alloy valve seats and CHE Bronze Alloy valve guides making these heads suitable for the toughest environment.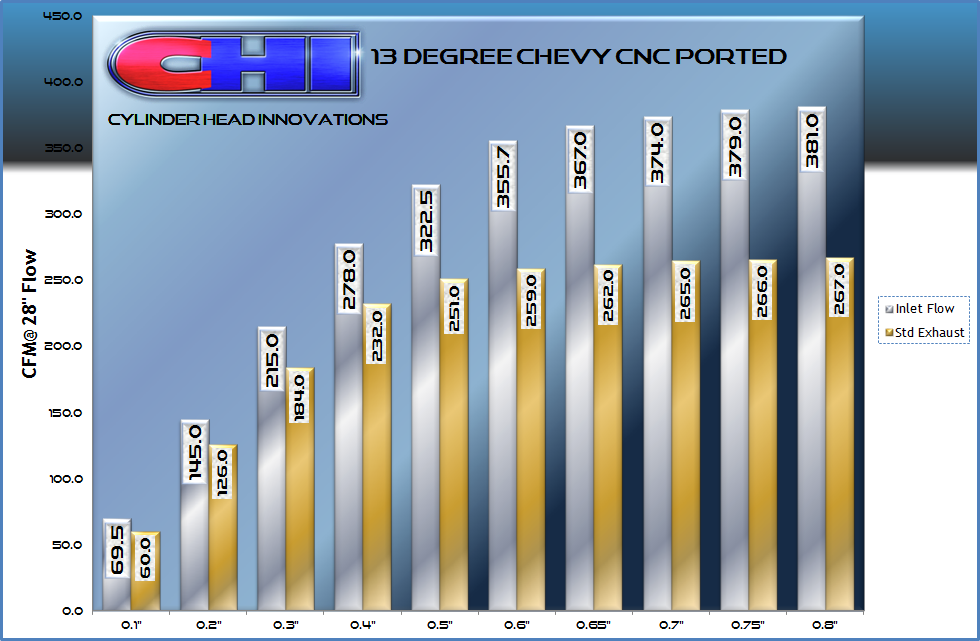 Head Model
Part No.
Assembled
Chamber
Valve Sizes
Intake
Valve Sizes Exhaust
Exhaust Pattern
Intake Manifold
Application
13 Degree
SBC13275B-55
Bare
55cc
2.200 X 6.090
1.600 X 6.090
Spread
Special Order
SBC13275B-60
Bare
60cc
2.200 X 6.090
1.600 X 6.090
Spread
Special Order
SBC13275B-55-1
Bare
55cc
2.200 X 6.090
1.600 X 6.090
Spread
Special Order
SBC13275B-60-1
Bare
60cc
2.200 X 6.090
1.600 X 6.090
Spread
Special Order
SBC13275C5-55
Competition
55cc
2.200 X 6.090
1.600 X 6.090
Spread
Special Order
Race Solid Roller
SBC13275C5-60
Competition
60cc
2.200 X 6.090
1.600 X 6.090
Spread
Special Order
Race Solid Roller
SBC13275C6-55-1
Competition
55cc
2.200 X 6.090
1.600 X 6.090
Spread
Special Order
SBC13275C6-60-1
Competition
60cc
2.200 X 6.090
1.600 X 6.090
Spread
Special Order
SBC13CNC-Raw
Bare
as cast
N/A
N/A
Spread
Semi Finished suit CNC porting
Summary
Brand
CHI - Cylinder Head Innovations
Product
CHI Small Block Chevy 13 Degree cylinder head